Supreme Court action taken against providers in construction industry
18 October 2023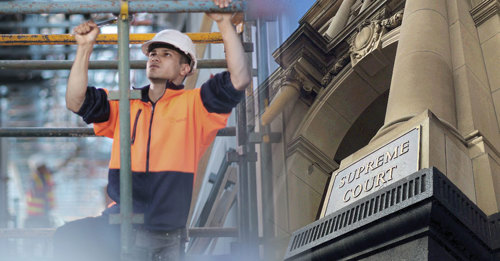 The Labour Hire Authority (LHA) has filed proceedings in the Supreme Court of Victoria alleging several companies engaged unlicensed labour hire providers to supply workers in Victoria's construction industry.
A total maximum penalty of $5,538,528 applies for the alleged breaches, under the Labour Hire Licensing Act 2018 (Vic).
LHA alleges that Rocktown Pty Ltd engaged two unlicensed subcontractors to supply workers to undertake work on prefabricated concrete for use in construction.
The subcontractors, Unitted Construction Pty Ltd and Unitted Landscaping Pty Ltd, allegedly further sourced workers through unlicensed providers Century Interior Service Pty Ltd and VL Building Pty Ltd.
Maximum penalties exceeding $600,000 for a corporation and $150,000 for an individual apply under the Act for providing labour hire services without a licence, or engaging unlicensed labour hire services.
As part of the action, LHA has also filed claims against three directors as individuals for their involvement with the allegedly unlawful activities of Unitted Construction, Unitted Landscaping, Century Interior Service and VL Building.
The five businesses involved have cooperated with LHA's investigation.
"Subcontracting labour is a common practice in construction and other industries – this case highlights that all companies supplying labour hire workers in a supply chain must hold a licence," said Labour Hire Licensing Commissioner, Steve Dargavel.
"Ensuring labour hire companies are licensed is the foundation of a fairer industry for businesses, and for workers," said Commissioner Dargavel.
The legal action comes as part of an expanded program of LHA compliance and enforcement, focused on key industries, significant harms to workers, and unlicensed operations. 
The case is the latest in a series of LHA prosecutions for alleged non-compliance, including:
As well as prosecuting alleged contraventions of the Act, LHA can remove a provider's ability to operate in Victoria by refusing, suspending, or cancelling their licence.
Providers and hosts should ensure they do their due diligence when entering subcontracting arrangements, as a range of issues may arise in complex supply chains.
How hosts can ensure a provider is licensed
Check your existing providers
Take two quick actions on the LHA website to protect your business, while helping to protect labour hire workers and improve the integrity of the industry:
Check your provider is licensed using LHA's Register of Licensed Providers.
Stay up to date on any changes to your provider's licence status using Follow My Providers.
Before engaging a new provider
Check the provider is licensed using the Register of Licensed Providers.
Don't rely on paper documentation – it could be illegitimate or out of date.
Verify the company offering services is the same as the company on the Register:
Note who is named as running the business, including any nominated officers.
If the person approaching you is not one of those people, confirm their connection to the licensed provider and authority to act, and ask to see an identity document.
Contact the provider's nominated officer using the details on the Register, to satisfy yourself that the person or business is the licensed provider.
Keep a record of all checks made and dates conducted.
When engaging a new provider
Take steps to ensure the contract you establish with the provider protects your business:
Sign a written contract that properly identifies who they are (e.g. with director IDs, ABN and full names).
Include clear and specific expectations of the provider, including an obligation to advise you of any:

changes to the office holders of the business
change to licence status
subcontracting arrangements in place.

Consider limiting the provider's ability to subcontract, to gain visibility of your supply chain.
Check that contract terms are sufficient to ensure workers are paid correct wages and entitlements.
Set clear expectations that the provider must comply with workplace laws.
If you are concerned about the bona fides of the business you are dealing with, or if you identify an unlicensed provider, you may also contact LHA.